Well that was great! I could not have been happier after the final whistle went on Saturday. Bristol are a very good team, who were unlucky not to turn over Exeter last weekend, and they had a very strong twenty three on show on Saturday. Wasps by contrast, were on a horrible run of form and mixed performances, and were down to the bare bones selection wise. By 3pm though, Wasps had a bonus point win, found a genuine wing option in Ross Neal, and had scored four really good tries. Real grit was shown throughout, and Wasps undoubtedly were the better team on the day and deserved the victory. Happy days.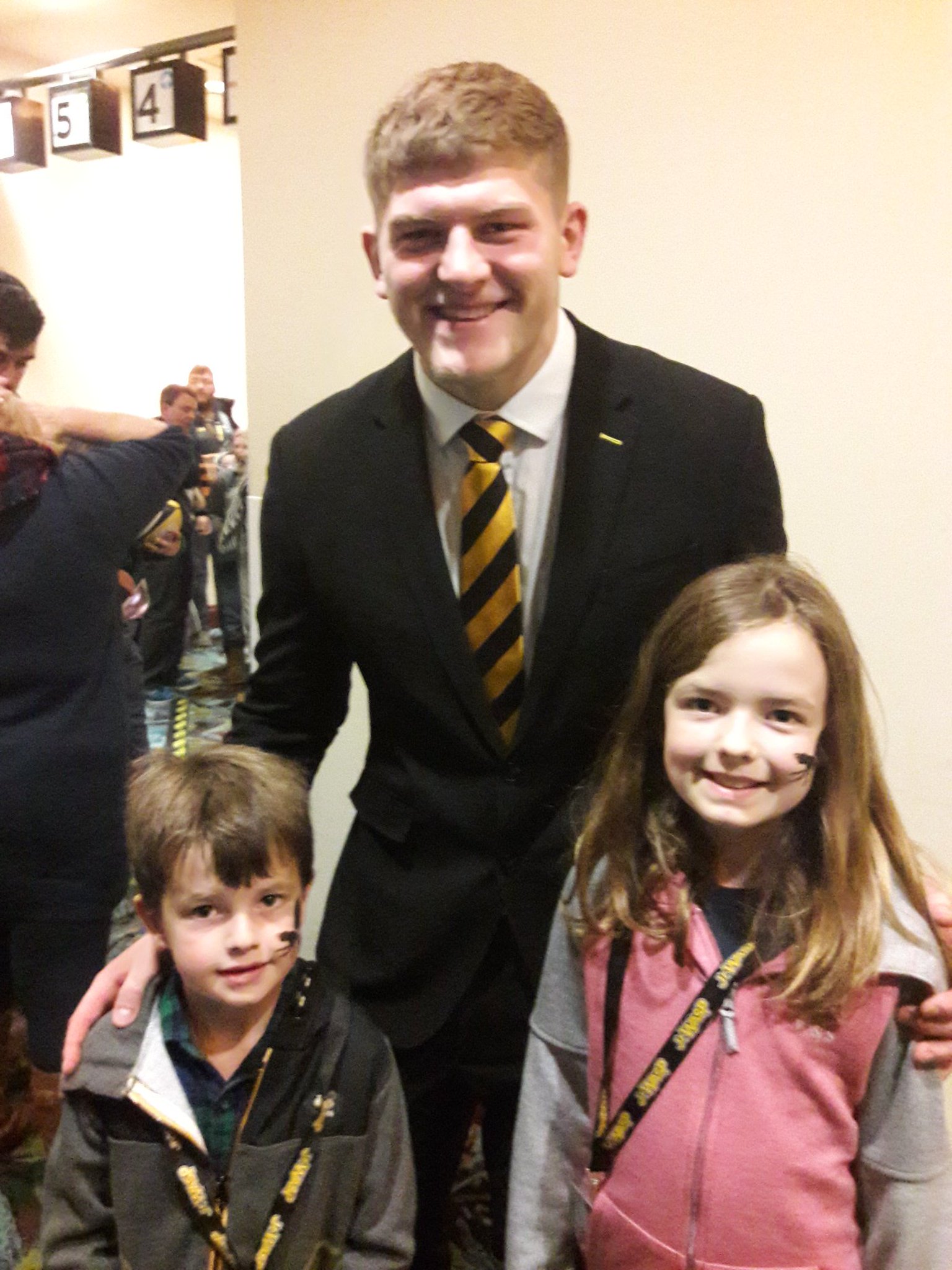 I want to share something that happened off the pitch though, and get some views on a little incident the family and I had. I have got two children, aged nine and six, and am very lucky to have ten nieces and nephews, most of whom have made it to the Ricoh at some point. This Saturday we took our two eldest nieces, who are twelve. I love the fact that Wasps promotes the family day out, with tickets free for under tens, tickets for juniors heavily discounted, and that there is always plenty to do in the fan village before the game. I think the players are brilliant with the kids as well, (example above before the Bath game) which only adds to the experience. I feel lucky that I can share my interest in rugby with my family, (and grow theirs) without worrying about exposing them to the more confrontational atmosphere that you can experience at some football games, by comparison.
Anyway, we were in the North Stand enjoying the match and there was a group of six to the side of us, aged early twenties at a guess. Quite possibly Bristol University students, who were enjoying a few beers during the match. No issue with that. What I did take issue with though was whilst the James Gaskell try was being reviewed, one of the group stood up, and at the top of his voice screamed 'get a f**king grip', amongst other expletives. He was wearing a football shirt. My wife got there first, requesting he take into account there was children around. Much chuntering followed on his part, which prompted myself to stroll over to him twice in the space of a minute, where I advised him relatively firmly on my views on the matter, and my feelings about his response to my other half. To be honest, I was raging, and found his lack of remorse about it the most infuriating part, it really made my blood boil. Most of his friends seemed pretty embarrassed, and in fairness to them, one gestured me over at the end of the game to apologise, as did the lad in question. Kind of. He clearly had had a few beers.
What was interesting though was his view once challenged and asked to to refrain from swearing: "you shouldn't bring kids to a f*****g sports venue then". I have been reflecting on this, and my wife and I discussed it at length on the drive back. Did he have a point? The words he used are not words which (sadly) my children won't have heard before on the playground, they are not particularly naive kids. However, I like to think culturally rugby is better than that though, in terms of his argument. I think it is brilliant that you can have a couple of beers whilst watching the match, sit next to an opposition supporter and discuss the game, take your kids and not worry about them hearing too many things they shouldn't. As part of this experience then, surely you should have some appreciation of who is sitting around you before you open your mouth? Given watching rugby is a fairly civilised affair, should we not act in a civilised way?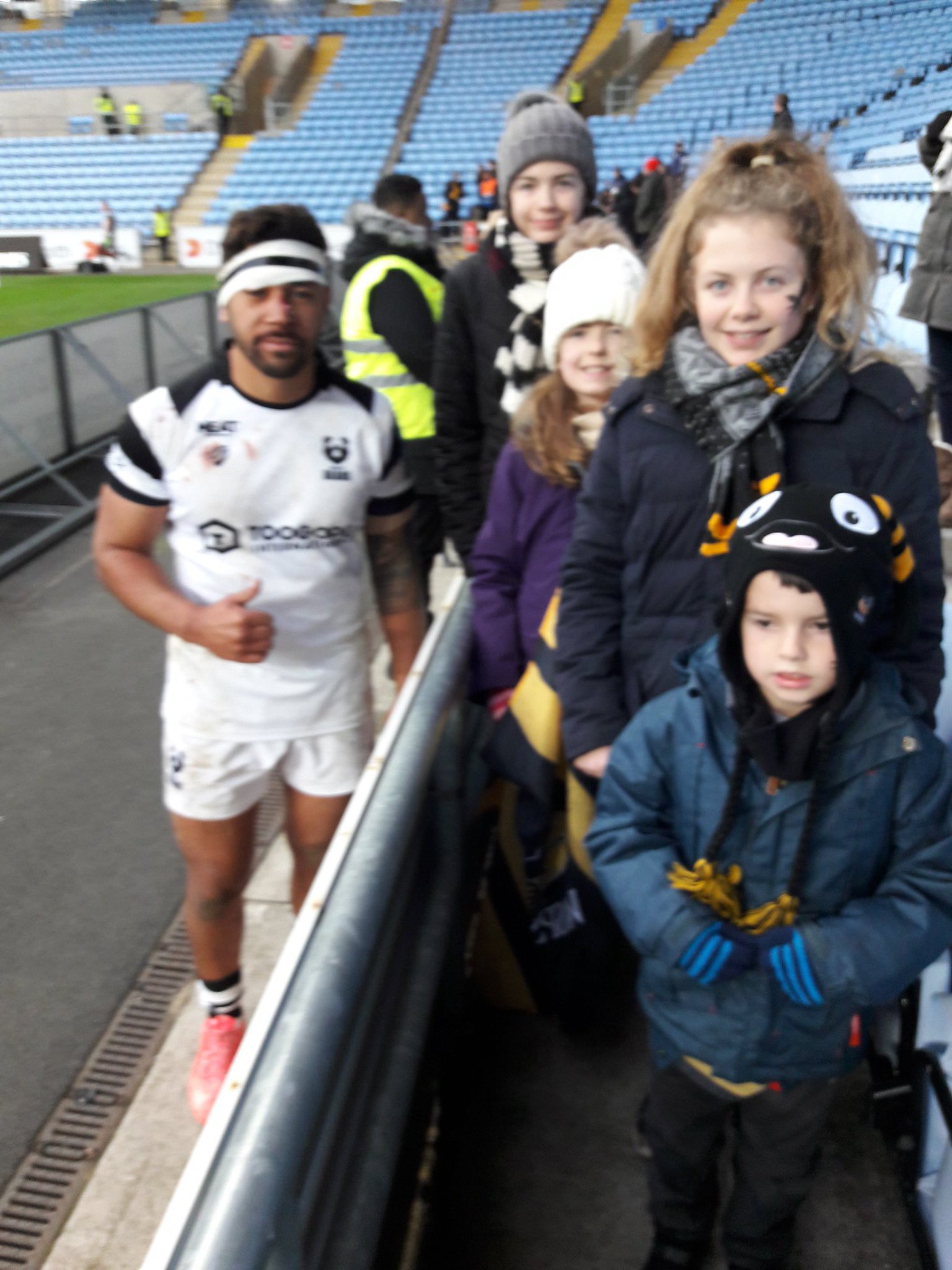 It did not spoil the game, and our day finished with a quick catch up with the Piutau brothers, and we left on a real high (apologies for the slightly blurred picture above!).
I am interested though, what do people think about this? Did the lad have a point? He paid his money, should he be able to say what he wants without challenge? I know my views, but as my wife will often tell me, I am often not right!
Thanks for reading, safe travels to all those going to Saracens next weekend.